Dental Hygiene – What's Jenga have to do with it?
New and returning students welcomed to the dental school program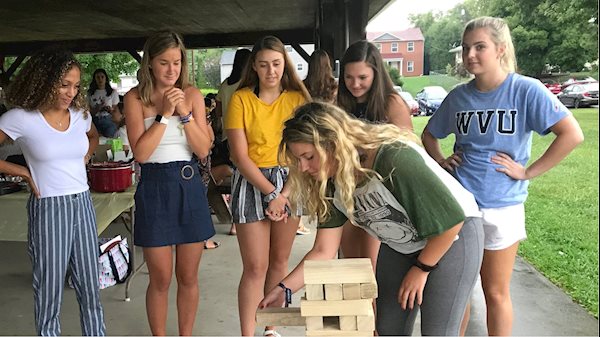 What's a game of Jenga among non-dental friends? Over fairly quickly.
What's a game of Jenga among future dental hygienists? Longer than you might expect.
Jenga requires steady hands to keep a 54-block tower from tumbling while meticulously removing blocks from the bottom of the tower and restacking them on top.
Master Jenga players and dental hygienists share some of the same skills and qualities. Both exhibit outstanding precision when it comes to manual dexterity and eye-hand coordination.
A giant Jenga playoff was part of the entertainment at the West Virginia University School of Dentistry Department of Dental Hygiene back-to-school gathering.
The annual event often includes a teambuilding exercise along with academic and professional standards review, introductions to class representatives and announcement of Student American Dental Hygienists Association officers.
"We are excited to welcome new and returning students and look forward to another fantastic year," said Amy Funk, Chair of the Department of Dental Hygiene.
On Tuesday, August 20, 16 new students officially entered the dental hygiene Bachelor of Science program.
They include:
Taylor Bittenbender, Katherine Bixler, Tatiyana Casear, Abigail Charles, Kayla Clark, Daniel Costello, Kaily Cullen, Caroline Ercol, Hannah Grimm, George Harris, Rachael Johnson, Haley Liu, Savannah McSwain, Hannah Nicoletti, Mackenzie Parker, Kandice Pruitt, Alice Salter-Roy, Marlee Scott, Julia Shutrump, Lauren Sobek, Catlyn Sparks and Darcie Trotter.
See photos from the 2019 Department of Dental Hygiene event.
As part of a Health Sciences Center professional program, dental hygiene students have additional requirements for admission than students in many other undergraduate programs. An interview session is part of the selection process. While new students meet future instructors during that visit, the official welcome before the fall semester is also a chance to connect with faculty and administrators.
The unconventional, integrated liberal arts and professional curriculum combines many disciplines that provide students a diverse and strong educational foundation for clinical/patient care, administration, education research and sales and marketing.
Students spend six semesters of the four-year program involved in and administering direct patient care. The lengthy clinical experience comes after three semesters of basic science and dental hygiene courses.
Each class typically attends all courses together from their first year through their fourth year. Familiarity is emphasized from the start.
"This year we asked the students to bring a favorite side dish or dessert that represented their culture or family. Several opted to bring a personal favorite like macaroni and cheese. But, we had also had dishes that are found in particular regions where students call home. There were pierogis and homemade pepperoni rolls as well as a number of family recipes," said Funk. "It's interesting to see the student bond and get to know one another."
There is no guarantee that after dental school the hygiene students will master Jenga or add a new recipe to their cookbook.
However, the program typically has a 100 percent job placement rate for graduates.