Back to

News
WVU Charleston's Dr. Anjlee Patel achieves board certification in adult congenital heart disease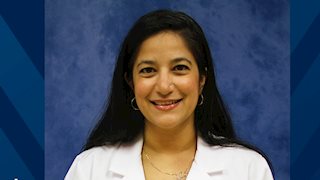 Anjlee Patel, MD MBA, assistant professor of pediatrics at the WVU School of Medicine Charleston Campus has achieved her board certification in adult congenital heart disease. This accomplishment adds to Dr. Patel's current board certifications in pediatrics, pediatric cardiology and internal medicine.
The certification is received from the American Board of Internal Medicine (ABIM) to recognize the qualifications of physicians who are specialists in the care of a wide range of patients with congenital heart disease. It distinguishes Dr. Patel's work with children, adolescents and young adults and her broad spectrum of knowledge around issues faced by people born with congenital heart disease.
Dr. Patel is a member the WVU Charleston Campus's pediatric team in the cardiology section in providing academic support to the WVU medical clerkships and CAMC residency programs, as well as patient care in the WVU Physicians of Charleston Pediatric Specialists office.
More than one million adults in the United States live with congenital heart disease, nearly half of which require lifelong cardiac care, according to the Adult Congenital Heart Association. Currently, there are an estimated nine ACHD training programs in the United States. Estimates are that there are 500 to 600 certified ACHD cardiologists needed to serve patients and this will continue to grow with advances in care for the treatment of congenital heart disease.
Adult congenital heart disease patients have now surpassed the number of pediatric patients needing care, which was unheard of only a few decades ago. These adults require specialized care throughout their lives; however, only about 10 percent of these patients are seeking appropriate care from adult congenital cardiologists. It is estimated that, at most, only 50 percent of those with adult congenital heart disease receive any sort of cardiovascular care.
"Children who suffer from pediatric congenital heart disease are now surviving into adulthood, with specialized medical needs that will be best met by trained specialists in adult congenital heart disease," noted Eric Holmboe, M.D., FACP, ABIM's chief medical officer. "This new subspecialty will enable patients to identify those clinicians with the competence and skill necessary to deliver quality care."
Dr. Patel's certification has drawn praise from administration at the WVU Charleston Campus and CAMC's Women and Children's Hospital.
"I am so proud of her being part of our team and fortunate to have her providing the much needed care for our patient population," said Dr. Raheel Khan, chairman of the department of pediatrics at West Virginia University Charleston Campus.
John C. Linton, PhD, ABPP, associate vice president for health sciences and dean of the WVU School of Medicine Charleston Campus and Andrew Weber, vice president and administrator of CAMC Women and Children's Hospital also applauded Dr. Patel's achievement in receiving her board certifications.