Back to

News
WVU Charleston physicians pioneering new approach to female surgery in West Virginia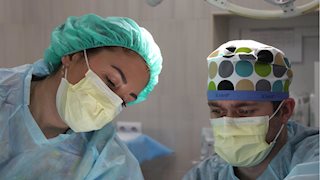 Advances in surgical procedures have changed the way in which people think about surgery today.
There are many factors that doctors go through in making the right decisions for their patients, and innovative minimally invasive procedures now offer safer surgeries with less recovery time.
Stephen Bush, MD FACOG, R. Todd DePond, MD FACOG and Stephen Bush II, MD of the WVU Physicians of Charleston Obstetrics and Gynecology Specialists are among the only physicians in West Virginia and of only a handful of providers in the United States that are regularly performing a new and exciting minimally invasive approach that is revolutionizing surgical care, and is significantly reducing post-op pain, recovery time and hospital stays, as well as costs.
Called Vaginal Natural Orifice Transluminal Endoscopic Surgery (VNOTES), the procedure goes beyond traditional laparoscopic surgery that uses small keyhole sized incisions in the chest or abdomen to insert surgical instruments into the body. In VNOTES procedures, Dr. Bush and his colleagues use the body's natural orifices to access parts of the body that in the past required incisions to reach.
"I feel that VNOTES is the next innovation in minimally invasive female surgery," said Dr. Bush. "Whereas we used to do single site laparoscopies where we made one incision in the belly button and inserted a retractor and placed laparoscopic instruments through it, we can now place the retractor and instruments in the vagina, and do the laparoscopy through the vagina. There's no incision in the abdomen at all. There's less discomfort to the patient and certainly cosmetically it's much better as well."
Dr. Bush speculates that there are less than 10 physicians in the United States that are currently using the VNOTES procedure, with Europe offering more than a dozen centers where patients can find the program.
Dr. Bush and his team first began to employ the surgical technique for removing fallopian tubes and ovaries vaginally, and are moving toward performing hysterectomies without incisions too. They have performed more than 45 VNOTES procedures so far, and are very pleased with the benefits that it provides their patients. In their offices located at the CAMC Women and Children's Hospital Medical Office Building, the practice is proud to be the first in the state to offer this ground-breaking procedure.
"We always prefer to offer minimally invasive options for women," Dr. Bush said. "Now, in addition to our robotic surgery program and single site laparoscopic program, we are excited to further those options through VNOTES. The vaginal approach for a hysterectomy has fewer complications than any of the other approach, which is a bonus as well."In addition to performing the VNOTES procedure as part of their practice with the WVU Physicians of Charleston, the team is also sharing their knowledge with the medical students and CAMC residents that they work with daily.
Dr. Bush is an associate professor and chair of the department of obstetrics and gynecology, Dr. DePond is an assistant professor and medical student clerkship director, and Dr. Bush, II, is a clinical assistant professor and gynecological oncology specialist for WVU's Charleston Campus department of obstetrics and gynecology. Sharing important advances and developments in medicine is an important tool in providing successive generations of competent physicians, grounded in the scientific practice of medicine and trained in cutting edge medical techniques.
The group attended an international summit in Vancouver recently, where 10 surgeons from around the world met and discussed the procedure and suggestions for improvements and developments. Both Dr. Bush and Dr. DePond will be teaching faculty members on upcoming conferences that include training sessions on VNOTES.
Minimally invasive procedures, using small incisions, revolutionized surgery by provide equivalent outcomes to traditional surgery, which sometimes require a large incision. VNOTES has stepped to the forefront and may offer further significant benefits including less bleeding, fewer post-op infections and complications, shorter care stays, quicker return to normal activities and work, less scarring, and comparable or lower costs.
"We are proud to be on the cutting edge of this new frontier in female surgery for West Virginia and the surrounding states," Dr. Bush said.
For more information on VNOTES, contact the WVU Physicians of Charleston Obstetrics and Gynecology Specialists at 304-388-1515 or www.wvupc.org.