Back to

News
Student Stories: Miranda Aman
Whether she's performing on the football field as a member of WVU Marching Band color guard or talking to prospective Public Health students as a Dean's Ambassador, Miranda Aman always shares her pride for WVU.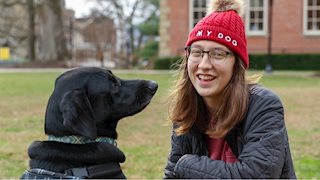 Every time The Pride of West Virginia forms a circle on Mountaineer Field, the crowd at Milan Puskar Stadium gets goosebumps and can't contain their excitement. The feeling is mutual for Miranda Aman, who gets to stand at the 50-yard line looking out at the fans as a member of the color guard. Her pride for the University doesn't stop there. After discovering the Public Health major, she realized she found a supportive environment that has helped her reach every goal. (And she gets to do it with her loyal companion, Leroy, by her side.)
Program: Bachelor of Science in Public Health
Area of Emphasis: Public Health Science
Hometown: Charles Town, WV
​​​​​​​
What does public health mean to you?
Public health to me is the thing that connects all of the other majors together. We really go into the causes of different health issues and we can help the community through prevention.
Why did you choose to study Public Health at WVU?
I knew I wanted to help people, but I wasn't really sure which major was the best for me, at first. When I found public health, everything just kind of clicked that this is how I wanted to help people. What I really like about public health is that isn't not just one emphasis, you can do so much with public health, and it really connects everything together in the medical field.
WVU really offers such an enriching opportunity to study public health because the professors actually care and the students really want to be here. We're all striving to do our best and this environment really helps you reach your goals.
What would you tell prospective students about WVU and the School of Public Health?
Don't be afraid to take the jump. Not a lot of people know about public health, but it's one of the most enriching majors.
What advice would you give to your freshman self?
Don't get too overwhelmed by the future. Just take it one day at a time.
What do you plan to do upon completion of your degree?
I would love to go to grad school. I would really like to focus on working through clinical trials in epidemiology, and then go on to the CDC to further my research.
What other activities have you been involved in at WVU?
My time at WVU has been one pleasant surprise after the other. I like how much of a home it has become to me and I've found so many friends here.
I have had so many opportunities through the band. Throughout my four years, I've been in the color guard. I've been a rank leader for two years, which means I teach the pre-game and I create my own routines to be performed at halftime. It has given me such leadership and communications skills that I can further myself after I graduate, and that I also have a home to return to.
I'm also involved in Sigma Alpha Iota. SAI is a music fraternity that educates and advocates for music. One of the projects we do is raise money to donate to organizations like Bold Notes, which creates music sheets for the blind, and school bands that have been affected by hurricanes.