Back to

News
Dr. Sambamoorthi named interim chairperson for Department of Pharmaceutical Systems and Policy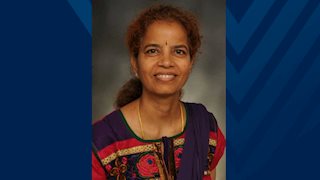 Professor Usha Sambamoorthi will be the interim chairperson for the Pharmaceutical Systems & Policy Department at the West Virginia University School of Pharmacy beginning in early June. School of Pharmacy Dean William Petros made the announcement this week.
Dr. Sambamoorthi came to WVU in 2010 and has been an advisor to many PhD students in the School's Health Services and Outcomes Research Program. Her areas of research expertise include women's health, international health, health economics, healthcare disparities by gender, race/ethnicity, disability, chronic complex illness, co-occurring physical and mental illness, mental health, aging and pharmacoeconomics and veteran's health.
During her time at WVU, Sambamoorthi has earned several awards and academic accomplishments. In 2010, she received the Outstanding Mentorship Award from the American Public Health Association; in 2012, the WVU School of Pharmacy Visiting Committee presented her with the Outstanding Accomplishment in Research award, in 2015, she was named as an AACP Academic Leadership Fellow; in 2017, she won two WVU Health Sciences Center awards—both for outstanding mentorship; and in 2018, she received another Health Sciences Center award for Excellence in Advanced Career – WVU Women in Science and Health. In addition, she earned the Gold Ribbon Award for Abstract at the AMCP National Meeting in Boston.
Sambamoorthi earned her B.A., M.A. and PhD in Economics from the University of Madras, India. She has dedicated much of her professional career to teaching and researching public health-related issues.
Sambamoorthi will step in for Dr. Suresh Madhavan who will be the Dean of the University of North Texas System College of Pharmacy.