WVU Eye Institute continues to provide vital eyecare in Saint Lucia through Kids Insight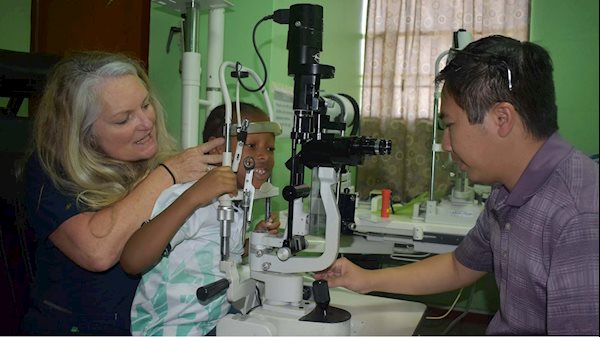 For 20 years, the West Virginia University Eye Institute has been contributing to outreach efforts on a national scale with yearly trips to Saint Lucia through the Kids Insight program.
Kids Insight is a is a joint project of the Saint Lucia Blind Welfare Association (SLBWA), the Lions Club of Saint Lucia and the WVU Eye Institute which addresses the vision needs of children with blinding eye conditions in Saint Lucia, a small island country located in the eastern Caribbean. The program offers a comprehensive approach to pediatric eyecare, including surgical, educational and rehabilitation needs. While the program is aimed at children, Kids Insight also provides ophthalmic care to adults in need.
Kids Insight is also a product of the Children's Vision Rehabilitation Program (CVRP), which is a needs-based program that responds to the individual needs of visually impaired children in West Virginia. CVRP is led by WVU Eye Institute director of outreach, Rebecca Coakley, M.A., CLVT.
Department of Ophthalmology and Visual Sciences professor John Nguyen, M.D., said that due to economic and geographic factors, many Saint Lucians with complex ocular diseases are unable to get the care they need. Without proper access to care, patients with severe cataracts and diseases such as glaucoma are at risk of permanent vision loss if left untreated, which according to Dr. Nguyen, is where the Eye Institute comes in.
"They don't have an Eye Institute in Saint Lucia," Nguyen explained. "So instead, we essentially bring the Eye Institute to them."
Nearly every year since 2003, a team of Eye Institute faculty and staff have traveled to Saint Lucia to spend approximately one-to-two weeks providing services such as ocular surgeries, eye exams and low-vision clinic evaluations to residents in need. Prior to the team's arrival, ophthalmic equipment and tools procured through donor funds are shipped to Saint Lucia, allowing the team from the Eye Institute to set up 'pop-up clinics' to provide care for patients.
In October 2022, a team from the Eye Institute consisting of Coakley, Nguyen, assistant professor Charles Moore, M.D., and surgical technician Donna Wheeler made the trip to Saint Lucia for the first time since the COVID-19 pandemic in 2020. Coakley said that following a two-year hiatus due to the pandemic, it was more important than ever to make the trip in 2022.
"Kids Insight is a 20-year partnership between us and the people of Saint Lucia, meaning these patients rely on us to provide them with the eyecare they desperately need," Coakley said. "We knew the need would be great after not being able to make the trip the last two years, so it was really important for us to help as many people as possible once we got to Saint Lucia."
The Kids Insight team saw a total 46 patients during the six days they were in Saint Lucia in 2022, consisting of 33 children and 13 adults. During that time, Eye Institute ophthalmologists completed 17 surgeries, including four pediatric cataract surgeries, five adult cataract surgeries, three pediatric ptosis surgeries, three adult ptosis surgeries and two adult tumor resection surgeries. Additionally, eye exams were conducted on several patients and orders were made for 16 pairs of glasses to be manufactured and shipped to Saint Lucia for patients.
In addition to continued yearly trips to Saint Lucia through Kids Insight, Coakley said the WVU Eye Institute and CVRP are in the process of expanding to mission trips to other countries to establish low-vision clinics and further help those in need.
"We've managed to do some amazing things through Kids Insight, but we also know that there is so much work left to be done," Coakley said. "Any person, regardless of where they are from, deserves to have the same access to eyecare as anyone else. We are doing our best to make that a reality in any place that we can."
To learn more about the outreach efforts at the Department of Ophthalmology and Visual Sciences and the Eye Institute, visit medicine.hsc.wvu.edu/eye/outreach.