Community health event supports women's heart health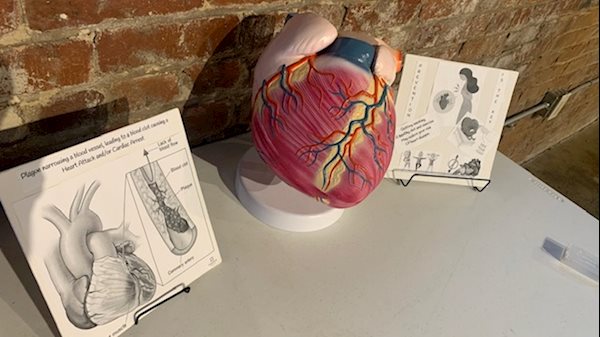 WELCH, W.Va. — As part of National Heart Month, a faith community nurse and a WVU School of Nursing student led an educational event in McDowell County to support women's heart health.
"Red Dress Health Awareness for Women," held Feb. 28 at the McCaffey Center in Welch, was led by Melissa Coleman, an ICU Nurse Manager and WVU School of Nursing-trained faith community nurse, and Stephanie Lusk, a WVU Extension Family & Community Development Agent and School of Nursing Master of Science in Nursing (MSN) student.
"Heart disease is the No. 1 killer in women," Coleman said. "At least 20 percent of all women aged 20 and up have some type of cardiovascular disease."
Roughly 20 attendees received education on the differences in heart attacks and disease prevention for men and women, as well as heart-healthy snacks and screenings, including blood pressure, blood sugar, EKG, pulse oximeter, cholesterol and weight.
"A woman may experience different side effects when having a heart attack than a man," Coleman explained. "Some of those symptoms may be extreme fatigue, lightheadedness/dizziness, neck and jaw pain often without chest pain, upper back pain, shortness of breath, chest pressure, vomiting/nausea, feeling of heartburn or indigestion, discomfort or tingling in one or both arms, in addition to male symptoms."
She said women oftentimes do not seek medical help because of their busy lives, making heart health education even more important.
"A healthy lifestyle, such as getting plenty of sleep, eating fruits/vegetables/fish, exercising at least 15 minutes three days a week, monitoring and keeping a normal blood sugar, cholesterol, and blood pressure, controlling your weight, and stopping smoking can greatly reduce your chances of death from a heart attack or cardiac arrest," Coleman said.
"Please help us stop this disease before it stops any more of our mothers, sisters, daughters, friends or ourselves. Grab a friend or a family member and 'Go Red' today by making a commitment to stand together in the fight against cardiovascular disease."
This event was made possible thanks to the Rusty and Kimberly Hutson Family Foundation's contribution to Faith Community Nursing initiatives, and lunch was provided by the McDowell County Hope Coalition.
For more information, please contact Melissa Coleman at melissacolemanfcn@gmail.com.
-WVU-
CONTACT: Wendy Holdren
Director of Communications and Marketing
WVU School of Nursing
304-581-1772; wendy.holdren@hsc.wvu.edu