Keyser Campus students participate in mental health-related escape room activity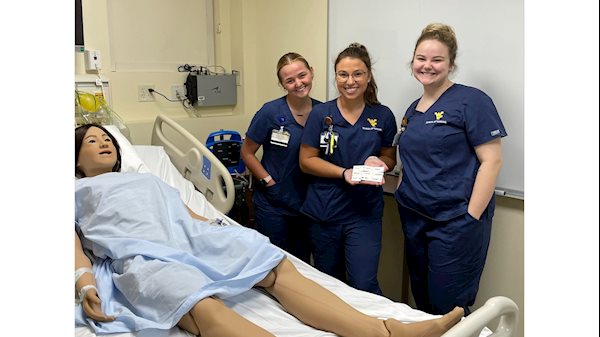 Pictured from left: Senior level students Jaden Corbin, Allyson Crowe and Mackenzie Cook
During a Serotonin Syndrome Escape Room, Keyser Campus students in NSG 450 were able to put their skills to the test by using clues to assist a "patient" in the emergency department setting.
Students were given an overview of the patient's symptoms and began care by completing an assessment, including vital signs. Puzzle pieces scattered throughout the room unlocked clues, such as a home medication list, including sertraline. The patient's husband arrived and reported that she was taking St. John's wort to "help her get through until the new dose of sertraline works better."
The patient's symptoms escalated, and students were expected to call the provider for orders, which included cyproheptadine as an antidote, lorazepam for muscle rigidity, and nitroprusside for the continued elevation in blood pressure.
Students had to collect all the puzzle pieces by completing tasks, including medication administration and seizure precautions to "solve the puzzle." They earned all the pieces and solved the puzzle, so the patient survived and thrived!
"This escape room activity was not only a way for me to creatively teach students about serotonin syndrome, but also a way for me to incorporate some pharmacology," said Heather Coddington, clinical instructor. "All the meds were different routes (oral, IV push, and IV piggyback), so they had experience in administering them, plus they had to titrate the nitroprusside based on orders, the patient's weight, and the titration table, to figure out their initiating and max doses. It was a fun, critical thinking exercise for them."
Jaden Corbin, a senior Bachelor of Science in Nursing (BSN) student, said she thought the escape room was a great way to apply the skills they already know to the new content they are learning.
"It helped to clearly decipher serotonin syndrome from neuroleptic malignant syndrome, since these two can be easily confused," Corbin said. "It allowed us to work together as a team to distinguish the best plan of care for our patient. I liked that there were clues hidden within the process of our care to let us know that we were on the right track."
-WVU-
CONTACT: Wendy Holdren
Director of Communications and Marketing
WVU School of Nursing
304-581-1772; wendy.holdren@hsc.wvu.edu