Beckley Campus sophomores learn head and neck assessment skills through interactive activity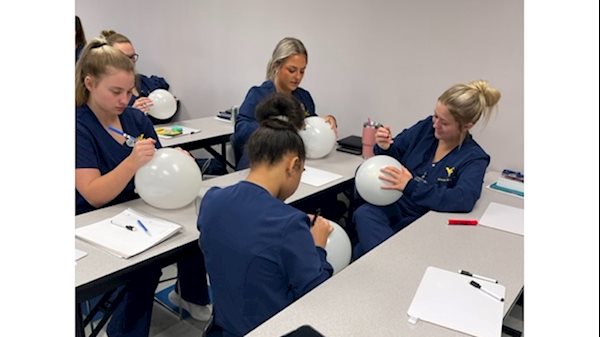 Sophomores at the WVU School of Nursing Beckley Campus recently learned head and neck assessment skills through a fun and interactive activity.
During their NSG 211 course, each student was given a balloon to draw a face on. Using their textbook and the internet for examples, students were directed to draw facial abnormalities that they may see in their future careers.
Once they completed their drawings, their professor instructed them to toss the balloons around the room for roughly one minute, ending the exercise with a balloon that was not their own.
From that point the student began to "assess" their new patient by documenting their findings and critically thinking about what the original artist intended to imply. Lastly, each student presented their balloon, along with their finding and the original creator told the student if they were right or not.
Kelly Morton, assistant professor, said the students had a lot of fun during this activity.
"When teaching assessment, it is difficult sometimes to elaborate on the abnormal," Morton said. "Pictures and videos are often used, but we thought this may help them think a little more."
-WVU-
CONTACT: Wendy Holdren
Director of Communications and Marketing
WVU School of Nursing
304-581-1772; wendy.holdren@hsc.wvu.edu